What is Digital Manufacturing
As we find ourselves firmly entrenched within the digital revolution, we have seen it permeate the manufacturing sector while simultaneously continuing to disrupt the media, finance and healthcare, amongst other sectors. The rise of digital manufacturing spells improvement of operational effectiveness, fast-tracking product innovation and generally changing the manufacturing landscape. While many industry events and thought-leaders herald the digital revolution, there is still some ambiguity around what digital manufacturing is and what it means for the future of manufacturing.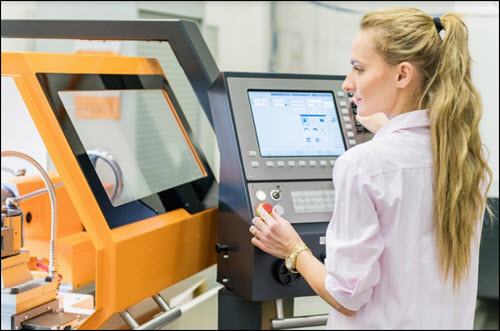 To help answer these questions, this article will provide an overview of what digital manufacturing is, its various dimensions and its benefits.
Digital Manufacturing, Explained
Put simply, digital manufacturing is the application of digital technologies to manufacturing. It links different systems and processes across departments, providing stakeholders quick access to accurate data, thus improving process efficiency. In order to perform at optimal capacity, digital manufacturing processes require integration between PLM (Product Lifecycle Management), ERP (Enterprise Resource Planning), shop floor applications and equipment to enable the exchange of product-related information between digital design and physical manufacturing. This instantaneous exchange of information between systems bolsters the efficiency of the manufacturing process as a whole. 
While efficiency is a great, and welcome, bonus, manufacturers can also achieve time-to-market insights and realize substantial financial savings by establishing a digital workflow. This digital thread can provide a framework in which the system can analyze product lifecycle data and spew out actionable information. Similarly, a fleet of smart and connected products can send customer data and feedback directly and instantaneously to product managers who can then more easily anticipate demand and meet ongoing maintenance needs. 
The Three Dimensions of Digital Manufacturing
The successful implementation of digital manufacturing requires the collaboration between relevant stakeholders. As such, there are three primary dimensions, or perspectives, that work in tandem to support digital manufacturing.
The Product Life Cycle: Starting with an engineering design definition, the product life cycle also covers the sourcing, production and service life of a product. Within these steps, digital data includes all information about the product, including: revisions, approved design deviations and specifications, and how these are executed throughout the life cycle. 

The Smart Factory: The smart factory is fully automated and connects equipment, resources and personnel to acquire real-time data that will provide: visibility of factory processes; ways to optimize process control; and insights into where improvements can be made. 

Value Chain Management: Allows for optimal process integration, decreased inventories, better products and enhanced customer satisfaction by minimizing resources and leveraging stakeholder function throughout the process.
The convergence of these three dimensions allows digital manufacturing processes to achieve higher levels of connectivity, orchestration and optimization throughout the manufacturing chain.
Benefits of Digital Manufacturing
When implemented correctly, manufacturers can realize many benefits of digital manufacturing processes. Chief among these include:
Working more efficiently

Manufacturers can leverage higher rates of efficiency in their processes through an automatic and instantaneous exchange of data.

They will also likely avoid costly errors resultant of overlooked or misinterpreted data.

As well as realize a lowered cost of production and maintenance. 

Innovate more easily

Digital manufacturing creates an environment conducive to greater and faster innovation. 

Real-time visibility into the effects of changes to processes, equipment, systems or components will allow for collaboration and innovation.

Share specialist knowledge

Manufacturers can gain greater insight at critical decision points, and leverage knowledge of various stakeholders.

Learn on the job

Digital manufacturing allows manufacturers to build intelligence and instructions into new machinery as it's developed. This optimizes operations and allows for a quicker turnaround time at all levels of the value chain. 

Increase customer and employee satisfaction

Digitization allows for the implementation of rigorous quality control of both a manufacturer's own products and those of their suppliers. 

Meeting compliance demands become easier.

Customers and employees will generally express more satisfaction with their products and jobs, respectively.

Digitization also works to give manufacturers a competitive edge, making them more attractive to new employees. 
Digital manufacturing is on track to completely change the manufacturing landscape. The way companies and consumers use information is changing. As global competition increases, manufacturers will be forced to think differently about their processes to maintain their competitive edge, attract and retain talent. If you're interested in pursuing an exciting career as an electromechanical technician, please contact a Program Consultant toll-free at 1-888-553-5333 or email us at info@gbctectraining.com
.