GBCTechTraining Student Satisfaction - A 2020 Survey Review
We work hard at improving the quality of our programs and our student experience. One way we do this is by asking our graduates, who have recently completed a program, for their feedback about the key elements of our programs and their experience with us through a satisfaction survey.  Upon completion of their program, students are invited to complete the survey. It includes 13 questions where we ask students to evaluate us using a rating system ranging from unsatisfactory to excellent. In addition, we included 7 qualitative questions to learn more about what our student's experience and thoughts about our programs are.
Below is a little snippet of what our survey looks like: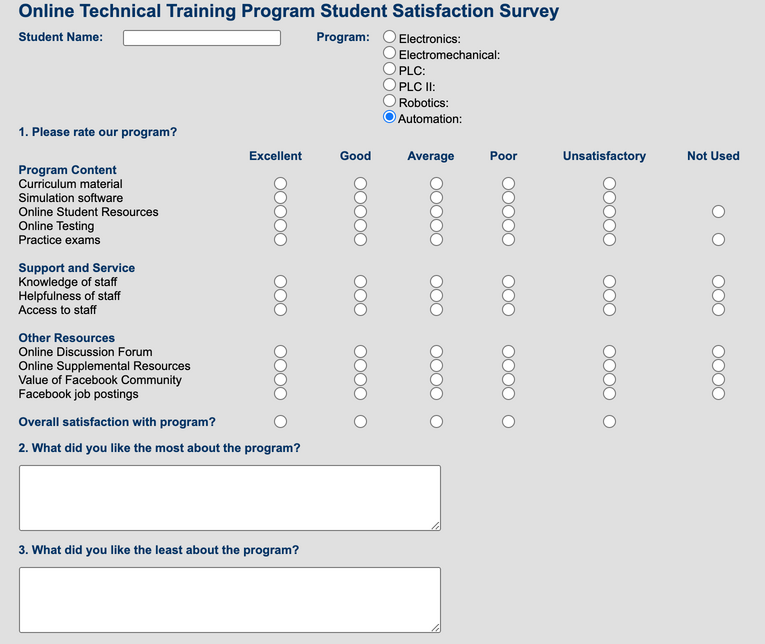 After we compiled and reviewed our survey results for 2020, it occurred to us that rather than just talk about those results that we should actually share them publicly through our blog so that everyone could benefit from this feedback, and so that we could brag a little bit about how good they are. We are by no means perfect and there are certainly students who are not happy with certain things we do, but in general they are very good.  
The results are compiled into a summary so they remain anonymous. So here, (drumroll!) are a few of the key findings of 2020 GBCTechTraining graduating student satisfaction survey: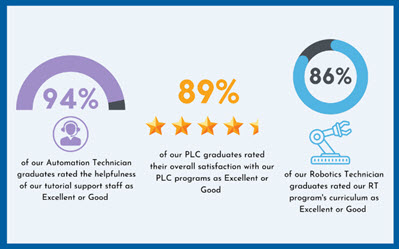 For a more detailed view of the full satisfaction survey results click the thumbnail below.
Evaluations are a very important part of our continuing effort to ensure that we are delivering the highest quality education and service to our students. Just a bit of background, the satisfaction questions were grouped into 3 general categories, including Program Content, Support and Service and Other Resources, and have been refined over time. In 2020, the survey was sent to our 300 graduates and 50 responded to the survey. While we wish we had a larger response rate, we are working hard to encourage more graduates to respond.
If you have any questions about our programs, call us toll-free at 1-888-553-5333 or email us at info@gbctechtraining.com and a Program Consultant will happily assist you.