Chatbots 101- Benefit From GBCTechTraining's Chatbots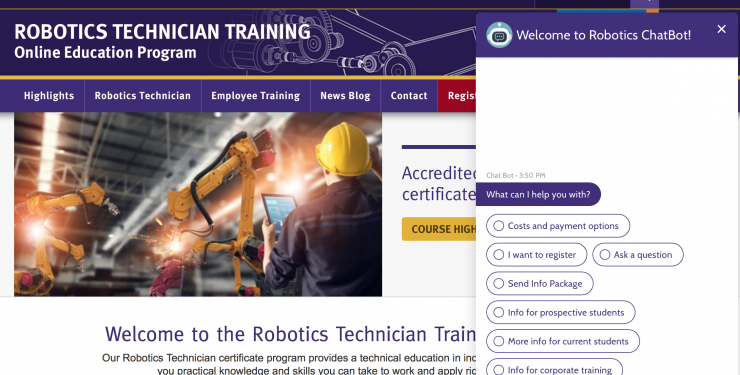 GBCtechtraining has introduced chatbots into our websites over the last three years. The purpose of these chatbots is to help prospective students find information about our programs in a convenient and easy way. We are happy to report that our chatbots are heavily used and relied on by students around the world, particularly after regular office hours, and coming to us from far away time zones.
Here is a bit of helpful information and a few tips about our chatbots to ensure that you get the most benefit from them.
Why do we have chatbots on our websites?
Thousands of prospective students visit our websites every day to learn about our programs. As they explore our sites and learn about our technical training, they bring lots of common questions to the table. Our chatbots allow us to provide consistent answers to these questions 24/7 to visitors from all around the world. Our chatbots can also carry out specific program related requests for these site visitors, like "send me an information package" or "have an advisor call me".  The chatbot provides a great platform for us to interact with our prospective students in very flexible but automated way.
What types of chatbots are on our sites? 
There are many different types of chatbots out there today but we have deployed two specific types of bots on our site, that we feel provide the best customer service experience.   
1. Rules based (or hierarchical) chatbots
A rule based chatbot acts on pre-defined rules with specific parameters. This type of bot follows a decision tree or logic flow diagram design. It builds a conversation based on if/else arguments. It has answers for predefined questions and will follow a path specified by the user. Once the bot opens, it will offer you buttons to click, and offer information on specifically related topics. It also has a button to go back to the main menu so that you can start over at any time. These specific rules control the interaction with the bot.
2. Artificial Intelligence (AI) based chatbots
This is a chatbot that leverages a machine learning algorithm with artificial intelligence to process a wide array of information yet provide a highly customized user experience. The AI (aka the chatbot program) is regularly trained with any new questions that are being asked and over time it develops a capability to answer growing number of questions on its own. The more questions it encounters, the more training it receives, and the 'smarter' the chatbot becomes.
How do the gbctechtraining chatbots work? 
When the chatbot opens, it presents a number of questions/topics that you answer or select to explore. These topics are arranged in the form of a decision tree. For example, if you ask about 'Cost and payment' the chatbot will respond to your query by providing the overall program cost and offer you further related topics that you might be interested in such as our 'Pay-As-You-Learn' option. The bot will follow a prescribed path that is powered by the logic of if/then statements.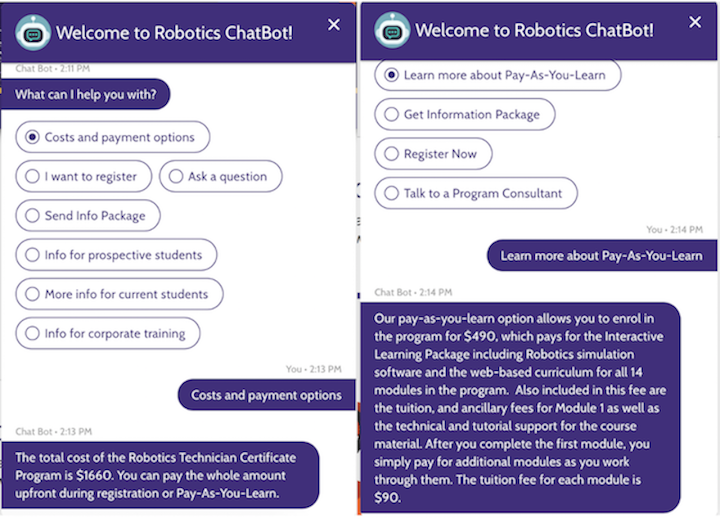 If you are not satisfied with the answer or want to know something else entirely you can select 'ask a question' option and you can ask a question to the bot directly. For example, if you wanted to know about financial assistance or Second Career funding, the bot would recognize what you are inquiring about and give you related information. This is the AI part of the chatbot. The chatbot is continuously being trained with new questions and learning about how humans ask questions and organizes the these questions with the best possible answers. If you would like to know about the program length, learn about online delivery, hands on training, career path and so on you are free to ask the chatbot and it will guide you with answers similar to the way a real human would.
What range of information is covered in our chatbots? 
If you visit our  Electronics, PLC, or Robotics websites you will hear a pop and see a chat box emerge from the bottom right corner of your screen, offering you assistance. Our websites generally contain lots of detailed information regarding each program and include most of what you will need to know to make an informed decision about enrolling. But you might only need the answer to a very specific question, without ample time to surf through our program's website pages to seek that specific information. Our chatbot may be your best bet for getting that information and allow you to move on to the next step in your process quickly.
What kind of questions does our chatbot answer? 
Our chatbots cover a wide range of questions that someone considering taking one of our programs might ask, like:
What does the program cover?
What is the cost and tax information?
Whether any financial aid is available (second career/OASP)
Information on modules/courses
Information on accreditation, certificates
What program pre-requisites are?
How does online learning works?
What are the requirements for successfully completing?
How to log in as a student and how to retrieve online course content
… and many more
What does a chatbot do when it is not able to answer a question?
There are interactions when the bot is asked specific questions it is not trained in or it simply does not understand the phrasing of a question. This can happen when someone asks a previously unasked (untrained for) question it has not seen before or the language used is to complex for the chatbot to understand the intention of the user. In this circumstance, the chatbot will offer you human assistance and might ask for best email or phone number to reach you at. It will also offer our inbound call center phone number where a human advisor will be ready and eager to help you with your questions. So, if the bot is not satisfactorily answering your questions or if the question is very complex or technical in nature, please reach out to our team by calling toll-free at 1-888-553-5333
We would very much like to know what you think of our bots. Have they been able to understand all your questions? Did you find it difficult to convey your question? Did it give you an answer that does not correspond with your question? Do you think it can be improved?
Please help us improve of chatbots by sending us your thoughts at mtassist@georgebrown.ca.