How to Access your GBCTechTraining Official eTranscripts
As we continue through the Covid-19 pandemic, many changes continue to affect how we at George Brown College are operating. While physical locations at the school remain closed, we are working hard to provide our students with uninterrupted access to their academic credentials. Towards this end, GBC has introduced the ability for students to download their official academic transcripts electronically, as Official eTranscripts. Once the college has reopened, we will begin to mail physical copies again. Until then, here are the steps you can take to access your Official eTranscripts.
Important Info
How much does my transcript cost?
Official Transcirpts have a $15 charge, and this is also the case with your Official eTranscripts.
Who else can access my Official eTranscripts
With your consent, third parties such as employers and educational institutions can view your Official eTranscripts. To do so, they must register, login, and connect with you on the GBC records site. You will be able to connect with them using the "Connections" tab on the records site.
How long will it take to receive my Official eTranscript?
It will take 2-3 business days for your Official eTranscript to become available on the GBC records site. After submitting your request, please return to your records account when this time has passed, and your download will be available. If you experience any difficulties, please contact records@georgebrown.ca
Creating a Records Account
Go to https://records.georgebrown.ca/
If you have already set up a Records account, you can login with your username and password. If you do not already have a Records account, click "Student & Alumni Registration".  Note, you will not use the same Username and Password that you use to log in to the Resource Centre. If you have forgotten your Student Records Username or Password, please use your personal email to retrieve it here.
 

After clicking "Student & Alumni Registration" enter your personal email address and create a password. On the next page, enter your student number, your first name, last name, and date of birth. These details should match what we have in our student system. If you have forgotten any of these details, you can click forgot my details, and then click submit. This will be reviewed and approved within 1 business day.
 

If the details match, then your account is automatically approved. You will be sent an email verification to the email address you registered with. Click the verification link within 24 hours to verify your Records account.
Steps to Access your Official eTranscript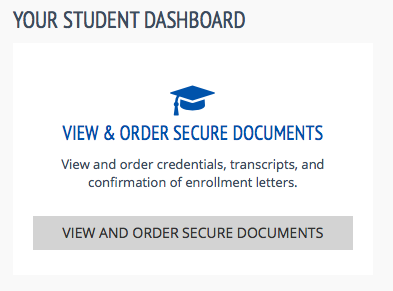 Log into your records account at https://records.georgebrown.ca using your email address and password. This must be the email address you used to set up your records account.
 

From your student dashboard page, click "View & Order Secure Documents.
 

Navigate to the bottom of the page. Using the menu in the "Transcript" box, select "Order eTranscript." There is a $15 charge to order your transcript.
 

Allow 2-3 Business days' processing time. After this time, when the transcript is available, the menu will change to read "View eTranscript." You will then be able to download or share your documents.
You should now have access to your Official eTranscript. Congratulations on your hard work, and we wish you well in your future endeavours! Your eCertificate can be printed, emailed to employers, or shared via the "Connections" tab in your records account. If you would like additional information on how to access GBC academic credentials, please visit https://www.georgebrown.ca/current-students/registrar/transcripts-credentials-enrolment-confirmations.